May 14-15, 2022
High Plains Raceway, Deer Trail, CO
The Bill Miller Tribute is our First Race of The Year, and One of the Most Popular!
Start the new racing season with the Bill Miller Tribute, one of our most popular events of the year!   Spring will be in full swing, and so will RMVR.
This May weekend is a tribute to Bill Miller's 39 years of racing with RMVR, as well as a salute to the durability of both Bill and the Shelby GT-350H he's raced since Ronald Reagan's inauguration.
Undoubtedly, if you have raced with RMVR for any length of time, you've seen the pristine black and gold 1966 Shelby GT-350H roll onto the track, piloted by the one-and-only Bill Miller. Bill bought the unique Hertz rental car in 1981.  Possibly the only racer who still drives his race car to and from the races.
Another very notable fact that Bill holds unto himself is that he raced in and finished all 15 RMVR race events at Steamboat – the only one to have accomplished that feat!
But let's face it – his passion for the sport is clearly evident. He's an inspiration to all drivers – the young, and the young-at-heart – showing that nothing can stop you if you truly desire it. This year, though, at age 88, Bill has decided it's time to hang up his racing helmet. But he's agreed to drive #22 to the track once more to serve as pace car driver this weeekend.
In Bill's honor, we'll have a Mustang 'parade' following the fun race on Saturday, which will again feature "Age Before Beauty" on the grid.  The Spring Race is a great time to "shake off the rust" and get your cars set-up and ready for the 2022 racing season!
Weekend Run Groups:  Entrants will receive an email prior to the event with the detailed Weekend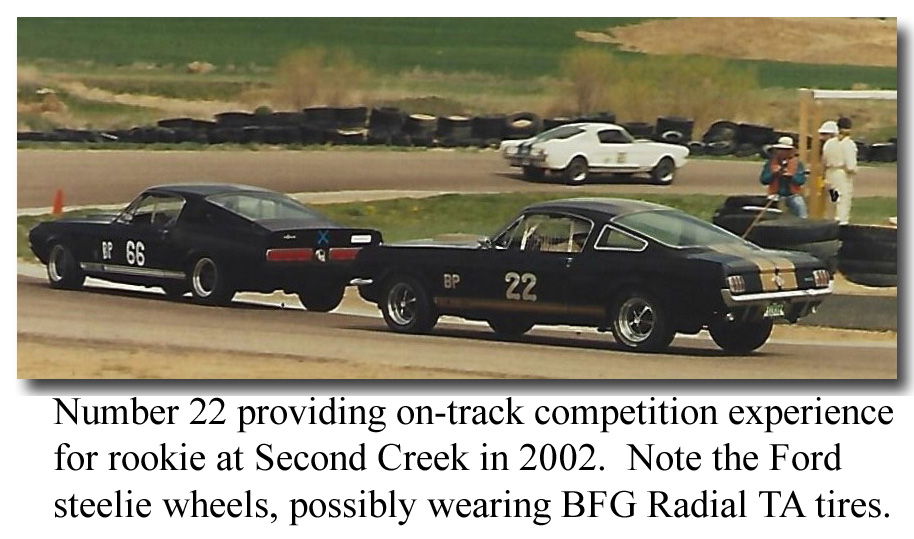 Schedule of grid times and the running order for groups.
Our RMVR Regular Run Groups are: Small Bore Production cars, VW Powered Formula Cars, Mid-Big Bore
Production cars, and Formula Fords / Wings and Things / Sports Racers.
In addition, a couple of added Run Groups are conditional upon sufficent sign ups:
Special Run Group: – Production cars

 

without an RMVR or VMC logbook

 

are welcome to enter and run in an added Special Run Group. (See below for additional details and requirements.)
HPDE Graduates, Sunday Only.  

 

Graduates of RMVR's Performance/HPDE School can register for four track sessions on Sunday.
If insufficient number of cars for these run groups are not registered 10 days before the event, those who did sign up will be advised and their entry cancelled.  
Entry Fees:  Won't be charged to your credit card until after the race weekend so sign up NOW!
$385 for Full Two-Day regular competition weekend.
$140 for a SUNDAY ONLY grid extended to graduates of RMVR's Performance (HPDE) Drivers' Schools.
Registrations 3 weeks before the event get the $25 Early Bird discount.
Registrations after 9 days before the event will be charged a $75 Late Fee.
Online Registration closes on Monday before the event at midnight.  After this, call 303-319-3062 to arrange entry. Entries phoned in after registration closes or at the track are $535                                               
Tech: Don't forget to get your Annual Tech done BEFORE you get to the track.  Here's more info on the benefits to you of doing this and how/where to get it done.
Marshal & Volunteers:   If you wish to work this event as a marshal or volunteer, please sign up HERE.
Event Chairs:  Kelly Nichols   kellynichols@remax.net   303-904-4653.   Co-Chair – Jon Whiteley jonlwhiteley@comcast.net  303-550-9787